Over The Wall encourages campers to become the hero of their own stories.
Our Therapeutic Recreation (TR) programme focuses on helping our campers, who experience health challenges, to realise the incredible abilities and talents they possess; this model is a 4-step programme based around Challenge, Success, Reflection and Discovery. TR is basically intentional programming – but made fun!
 
At Over the Wall we ensure that the challenges our campers face will be in a supportive, fun and safe environment and that challenges will be individualised and tailored for each camper. In the words of the founder of the first SeriousFun camp, Paul Newman, we enable children to "raise a little hell".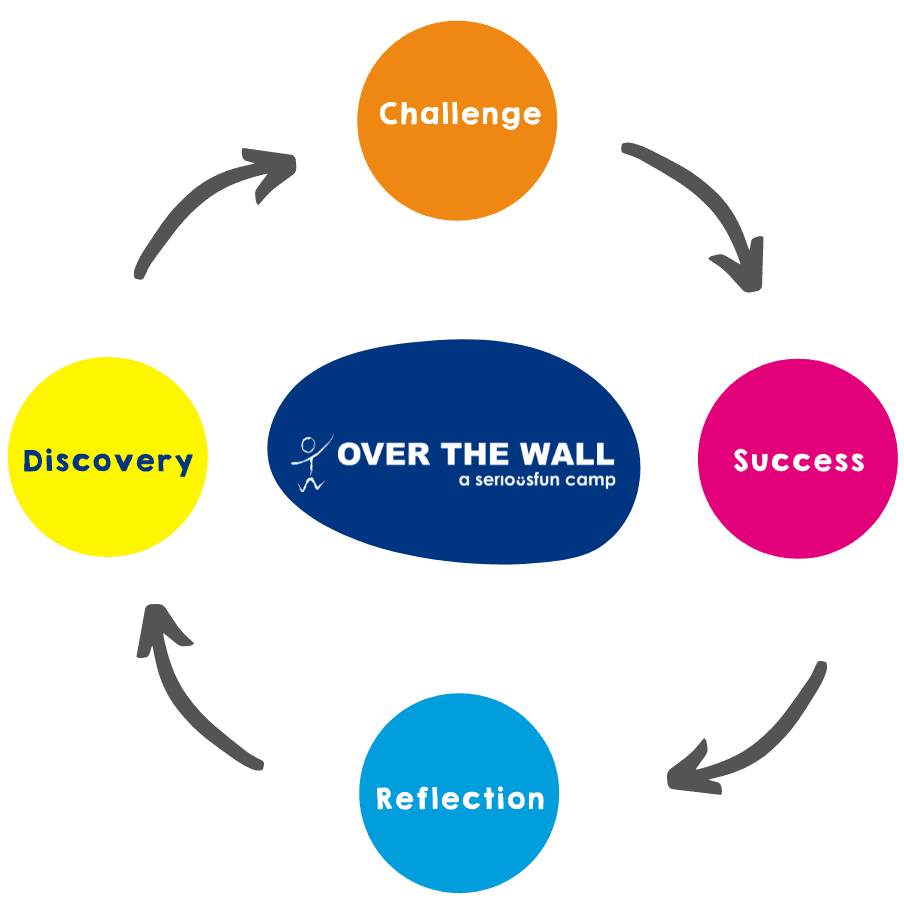 Therapeutic Recreation Model
This programme is backed by the medical world which helps children affected by serious illness regain their confidence and self-esteem and which has become internationally recognised as having a profound and positive impact on their lives. Therapeutic Recreation is Intentional Programming in a fun manner.

The aim of each activity at Over The Wall is the process of trying something new rather than the end result i.e. archery is not about hitting a bullseye.
Challenge is different for everyone – we know this and so do you – we'll want to work with your child to find out where there's room to 'stretch'…
 
In your comfort zone you are completely comfortable. You enjoy both the activity and the environment in which you undertake that activity. There is very little challenge for you while in this zone. In the stretch zone you feel you are being challenged in some way, but you are willing to try and overcome that challenge. This is where our campers are most likely to learn something new about themselves – self-esteem grows, confidence rises, and campers realise their true potential. We never want to over-challenge campers so that they enter their panic zone. When you find yourself here, you feel scared, unsure about what you are doing and what is taking place around you. You can become stressed out and you find yourself making quick decisions.
 
Campers choose their own level of challenge – we call this 'Challenge by Choice'. By giving campers the responsibility to make their own decisions, it empowers them to go at their own pace of progression. We learn about campers' goals and comfort levels on the very first night, so we can support and encourage them. We will break down our challenges, step-by-step, to ensure no task is ever too daunting and we individualise challenges to ensure each camper succeeds.
Everyone wants to experience success, it gives us a boost, and makes us want to achieve even more. Over The Wall ensures that your child will experience success in a safe, fun, positive and supportive environment. We get to know your child and we learn what they might find challenging at camp, so we can support and encourage them in the best possible way.
 
A powerful tool called 'Specific Positive Labelling' is used to highlight individual and group successes throughout camp, by recognising when a camper succeeds and ensuring they recognise their achievements.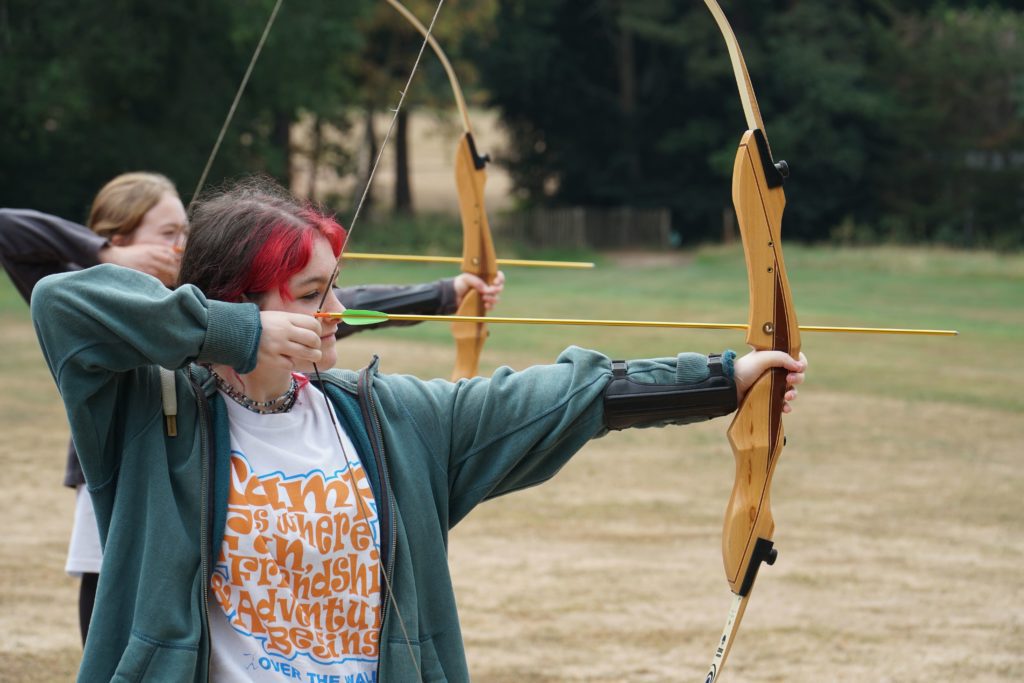 Life at camp is action-packed and it can be difficult for campers to find the time to reflect on all their amazing achievements. This is why we have built-in 'Reflection' times at camp. We start every activity with an introduction and finish with a debrief. The debrief facilitates Reflection and highlights the positive change that occurred after the session. Each camper will receive a discovery box to design and to which they can add memories from the week which will build on their sense of achievement. One of the most powerful times at camp, and one that aids Reflection, is Cabin Chat at the end of each day. While campers talk about their successes, our volunteers re-emphasise and validate the incredible achievements of each individual camper.
 
Reflection is the key to discovery. We ensure our campers realise the incredible successes and achievements they have made at camp and that they take these with them when they leave.
Discovery is the last part of our Therapeutic Recreation programme, it is the combination of all the previous steps – Challenge, Success and Reflection.
 
Discovery is the moment that your child realises that all the amazing qualities and strenghts they noticed about themselves at camp, are a true part of who they are – attributes that they can call on whenever they are needed. They recognise consciously or subconsciously that they don't need a climbing wall to be brave – they are brave; they don't need a room full of crafty material to know that they can be creative – they are creative. Campers discover they don't need to be at camp to use all the amazing qualities they possess, they just have to be themselves and with this discovery, their confidence and self-esteem can grow.