Camp in the Cloud is a virtual day camp that the whole family can get involved in. You don't have to worry about supplies and equipment, we take care of that for you! Every family receives a Seriously Fun box in the post with everything needed to take part in the activities. You can even connect with other families who may have similar experiences through our secure zoom calls and message board. Ellie shared with us the impact Camp in the Cloud has had on her family.
We did Camp in the Cloud for the first time in November. It was perfect timing as we'd just moved house, so it was nice to have something fun to do when the house was in complete disarray! We did another Camp in the Cloud earlier this year. It was just the right balance of online stuff and things you could go off and do as a family away from the screen. 
It was all new activities for them which kept them engaged. We actually had Gwen and Rowan in separate rooms on two different computers because they wanted to join different breakout rooms. They loved being able to do that so it's a great option if you have more than one laptop. They liked creating characters online and each character had allergies which were also their superpower – it was really cool! It was all really fun. Gwen and Rowan loved it and are very glad we did it. I think they would have stayed up longer to finish all the activities if we'd let them. They were so up for all of it!
We loved both Camp in the Cloud sessions, but the nice thing about the second Camp in the Cloud was that everybody there was living variations of the same life. It had a real community feel to it as the children instantly connected over their shared experiences. They were all discussing how Domino's does vegan pizza which they're all able to eat. Rowan loves Domino's because he has it on his birthday as it's the one takeaway he can eat. It was exciting for them to find other people their age doing the same thing, hearing the "me too's" coming through the laptop speakers really helped that sense of belonging! He couldn't have that conversation at school because people without allergies don't understand what it's like.
With this group, everyone understood that the things we do each day to avoid an allergic reaction are just part of our normal life. 
The brilliant part is that the adults at home can join in too. We always joined the call at the beginning of the day and at lunchtime, so we got to be a part of that community too. There was a quiz at the end of the day that we did as a whole family which was super fun too!
Camp in the Cloud was really well organised. The Seriously Fun box that arrived was amazing as it had everything needed for all the activities. We played a brilliant game with playdough which Rowan thought was excellent! We had to make a photo booth with a beautiful glittery curtain and took lots of photos with silly props. The children really enjoyed choosing the song for the dance parties at both Camp in the Cloud events. We did a quiz both times too which was really fun. The box also came with a little game which has been used endlessly since it arrived!
Rowan and Gwen really loved playing the online games too, it felt really special for them to log on for one day and play together as that's not something they usually do. The box comes with lots of arts and crafts supplies so we made a rocket with some of it. There's still one activity we haven't done yet, that's how much there is! 
They loved all of the games, partly because they don't do it often at home. There's a real sense of achievement once you've completed a game – some of them are quite hard! There was a sailing game that Rowan and I did together that took us ages to work out what we were doing. We both felt really good once we got the hang of it!
Even though it's focused on having fun, there's a positive psychosocial benefit of being able to play games or complete activities and achieve something.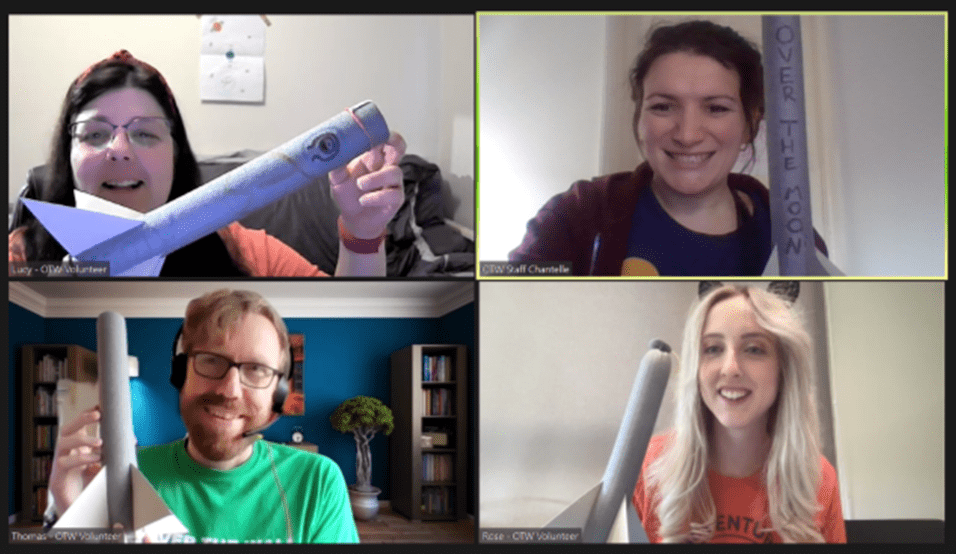 Allergy is such a hidden difficulty and compared to other Health Challenges, it's really serious and not serious at all at the same time. We're not in hospital every day. My son is very well, but were he to eat something he's allergic to, he could be very seriously ill. Living with that is challenging so it felt really important that allergies were recognised. Meeting other families at Allergy UK Camp in the Cloud, we talked about that and we all understood the experience. For me that was really powerful. For my son, it normalised his experience with allergy. He's never met anyone else who experiences allergies the same way he does. Lots of people say they have allergies but not life-threatening ones like he has. 
I mentioned to a friend that that we were doing Camp in the Cloud and then I felt like I had to justify why it's hard to live with allergies. When I worked in paediatrics, my colleagues who worked with me understood because we were treating a lot of children with health needs. To other people, it just wouldn't really occur to them.
All they see is Rowan running around the playground looking 'well'. They don't see the extra emails and phone calls to school, the extra meetings or all the hospital appointments.
Understand more about our family's experience with allergies.
I like that my daughter's included because she finds it quite hard to be the sibling of someone with an allergy. There's lots of places we don't go to because Rowan can't eat there. For example, we could pop into a nice cake shop but end up not buying anything because he can't eat it, meaning that Gwen often has to miss out on things. The impact on her is quite big. For her to be included without question – where Rowan isn't the special one and she's the sibling – feels really nice. Camp in the Cloud is for the whole family.
It's knowing that they're not alone, it's hard but you can still have fun at the same time. Learning that good things can come out of difficult things is a good lesson too. If Rowan didn't have an allergy, they wouldn't be able to do Camp in the Cloud. That's something special they can share. I think those will be long-term impacts for them both. We would absolutely do Camp in the Cloud again as both times were brilliant!