Sophia is one of our fantastic summer camp volunteers! Before she volunteered with us at Over The Wall, Sophia was a camper at many of our residential camps. She loved her camp experience so much that she had to return as a volunteer. Sophia has picked up some incredible life skills from camp as well as some amazing memories to take forward into the future.  
From camper to camp volunteer
I started coming to camp when I was around eight or nine, and ever since I knew campers could volunteer when they're older, I've wanted to come back. Last year I finally made that happen. It was everything I wanted and more — it was fabulous! It brought back a lot of good memories, and I made some new ones too.  
As a camper-turned-volunteer, I could empathise a lot with the campers. I knew how they were feeling and I knew when to step back and let the campers experience those opportunities for themselves. I remember how it felt to be encouraged too, which made it easier to encourage the campers. You don't have to have been a camper to be a volunteer though, a lot of the experience at camp is intuitive!  
Family Camp was the first one I went to camp as a volunteer and it was so much fun. I was a bit nervous to be working with adults as well as children at family camp, but I ended up having a great time! I worked closely with other volunteers and we had a blast. Our family of four were lovely and got very involved with everything.  
I'm still friends with the people I met at camp over the years. Returning as a volunteer meant I could rekindle other friendships too. There are volunteers who looked after me when I was a camper that I got to meet again at camp. It's been lovely meeting new and old faces.  
I've definitely developed my soft skills such as interacting with others and making people feel at ease. That's always improved every time I've gone to camp. I don't think that's something you can be taught; I think you go out into the world and develop those skills yourself. It's something you experience that you then have to take on board. That's something camp has always done. It's always been inclusive and understanding. So, I think the mere fact of me going has made me a better person in that way. You might not think of empathy as a skill unless you've been put into that situation. I'm forever grateful that I learned not only to listen to people's struggles but to feel what they feel from a young age. 
Camp has given me the edge when applying for jobs – it's very high up on my CV! It's an invaluable life experience for me. It's being able to go out there and meet people you've never met before, gel with them and give them an experience they'll never forget that makes it such a strong skill to have. I feel like I've accomplished a lot through camp.  
I'm studying Childhood and Youth studies because I love working with children. Camp really bred those leadership skills for me. I remember being one of the older campers at camp and helping lead fun activities and helping the younger campers feel safe and welcomed. That really solidified for me that I wanted to work with children. I also want to work with all ages – the entire spectrum! I've just started tutoring at foundation level, I've worked in a primary school and a nursery. I'm looking at going into maternity care and postnatal too, so really all ages!   
Performing arts (singing, dancing and acting) is another thing I'm passionate about. I sang at the Serious Fun gala in 2017 because they knew how much I loved singing. Singing and dancing my heart out at the Camden Assembly will forever be one of the most iconic things I've ever done!  
I also spoke at the Over The Wall gala in 2022. Four of the nominees for the Volunteer award were part of my team at South camp so we were really proud. My speech was a huge thank you to everyone in that room for changing the lives of people like me, not just now but in many years to come.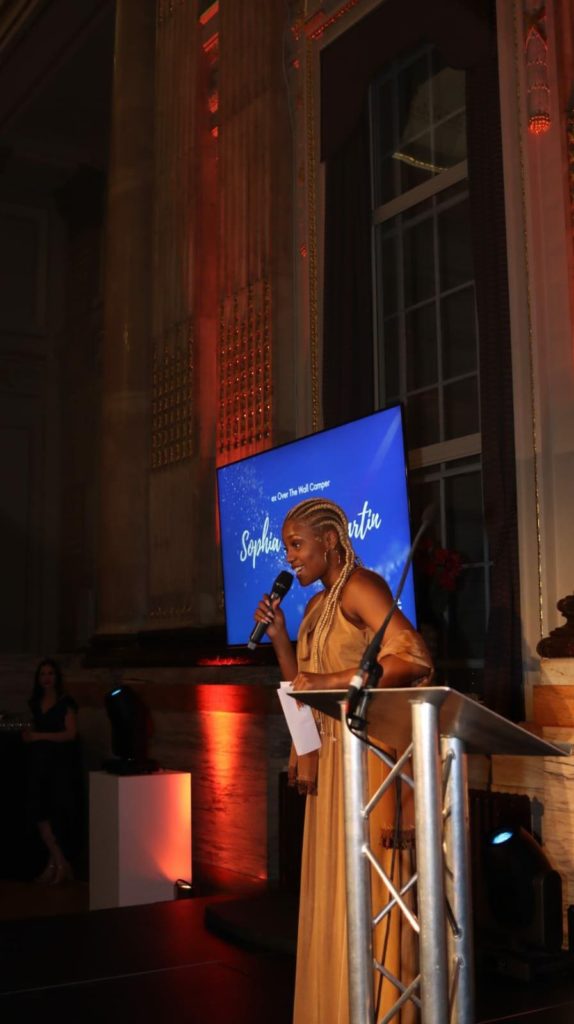 "Camp shows you what you're made of"
The first camp I went to was at a huge boarding school. Upon arrival, there's this array of colour, glitter and face paint. Everyone was in costumes! My nine-year-old self stood flabbergasted that the volunteers were walking around head to toe in orange facepaint. I remember thinking that this was the most outrageous face paint I'd ever seen! I worried that they expected me to do the same. But by the second day I was all for it!   
I also got to try horse riding at camp. I'd never done this before! That was when I fell in love with horses. When I came home to London, I found a local stable and started volunteering there. I still love horses today and ride when I can.   
As a child, I was always a naturally sociable and bubbly person. Camp helped me lean into it more. Eight-year-old me was very happy to take things in my stride and amble along at that pace, but when I went to camp, I realised I was capable of doing more. It made me think no, I am going to do things I want to do, which has led me to where I am today! That really instilled in me to do a job I love rather than just one I'm 'capable' of as a 'sick person'.  
My Health Challenge was never a big deal at camp. It was great to feel represented too, as I met other people with the same health challenge. Being around outgoing, like-minded people feels really good. It's lovely watching people come out of their shells, do really cool things and you get to bond over those good experiences. It makes for a good time!   
In my last year as a camper, I started up a dance party in the hall to Waka Waka by Shakira. I danced at the front of the hall, encouraging others to do the same. That's one of the songs Over The Wall uses for dance parties now. So, I now joke that I founded the dance parties that have become such an integral part of camp! It was all my idea!     
It sounds cheesy but what I've learned from my camp experience is that anything's possible! What you accomplish in a week – whether that's climbing one step higher on a wall or going out in a canoe when you're scared of water – it's those small things that stay with you. When you overcome something, that's when camp shows you what you're made of.
Living with a Health Challenge
Me and my younger brother have Sickle Cell Disease (SCD) and it was our local hospital who referred us to Over The Wall.   
SCD is a hereditary disease, so it's always been a part of my life. I've never seen it as either an advantage or a hindrance, it's just how I live. I'm very thankful nowadays to not have as many hospital visits as I did as a child, but I still have to be mindful. SCD is immunocompromising so I have to be careful catching any germs, especially in winter. I need to take my medication on time and make sure I'm generally well. I went to hospital recently with a high temperature which was when I found out I had Covid. This was the fourth time I've had it. It's just one of those things you take in your stride–here we go again!   
I also have Rheumatic Heart Disease and faced heart surgery at 14. My mum was more stressed than I was because I try to take everything in my stride. I was more upset that I couldn't go to camp that year because of the surgery, not the operation itself!   
Just because I don't look ill all the time, doesn't mean I'm not – I wish people understood that more. SCD can affect people differently. I try to be as positive and optimistic as I can. I think I had to be like that growing up because of the situation I found myself in. What doesn't kill you makes you stronger!   
I've been offered to do some voice acting for a research study on SCD so that's really cool! Hopefully that'll get the word out there about SCD and the mistreatment and struggle some people have getting the support they need. 
Anyone thinking of volunteering: just go! If you love children, or even if you just love a good time, then sign up to volunteer at camp! You're having as much fun as the campers. You don't need any qualifications to volunteer, just a good attitude, an open mind and an open heart. That's it!