April is one of our amazing volunteers! This was her first time volunteering at camp, and she was really excited after hearing about us on Children in Need. April loves working with children and enjoys being creative — there's not much room to do this in her day job but camp allowed her to flourish and flex those creative skills. If you'd like to volunteer at camp 2024 but would like to learn more about it first, read April's inspiring story to find out what you could gain from coming to camp!
Why I volunteered at camp
I work at a large organisation, who kindly give us five volunteering days a year to take. I wanted to use my volunteer leave in one go, so I was looking for opportunities in the Midlands. It's not something I'd have been able to do otherwise, so I'm very grateful that my employer actually gives us the time to volunteer for a charity.  
My mum was a childminder, so growing up I was always surrounded by children of all ages and backgrounds. I've got lots of nieces and nephews too, and people say I naturally get on with children which is why I was looking for a volunteering opportunity with children. Around children, you can be your true self – you don't have to worry about the pressures of the outside world or being more corporate or professional. You can just be you. So I was looking for a volunteering opportunity where I could do that and have fun. 
Camp really exceeded my expectations! I didn't expect the role of camp teammate to be as big as it was, which was great. I loved how involved the volunteers were from beginning to end."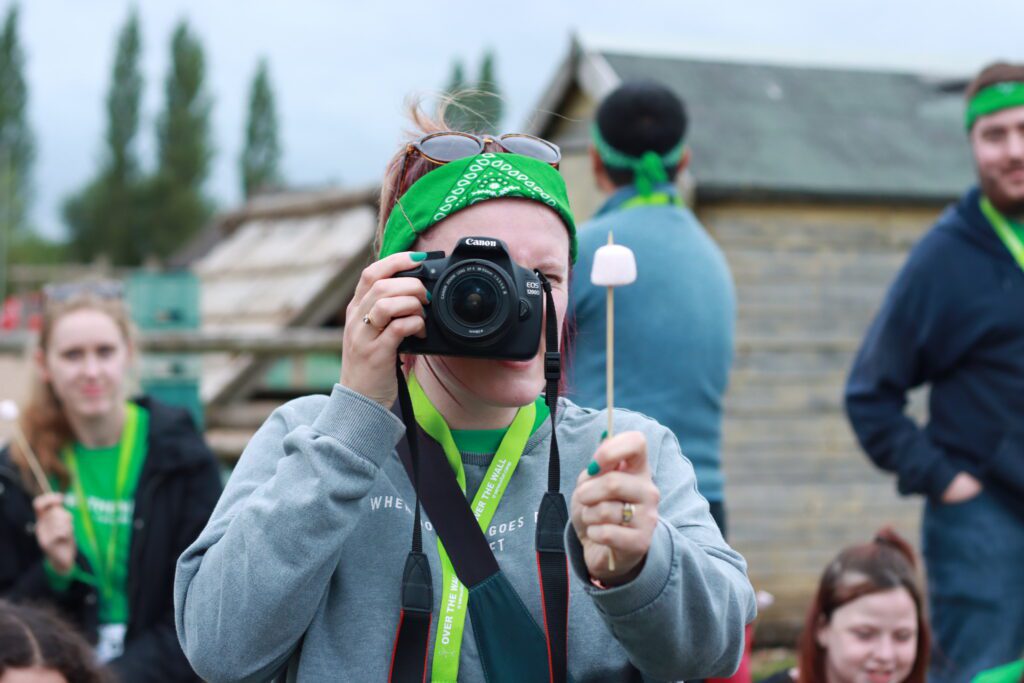 My favourite memory of camp was of the last Cabin chat with the campers. It made me realise just how far each of them had come in just five days. Most of them arrived not knowing anyone, feeling nervous and didn't know what to expect. For many it was their first time away from home, so when you compare how they were at the end of the week, not wanting to leave camp that was really nice! 
The best thing about camp
The best thing about camp is the camp bubble. Things happen in the outside world but for five days, it's all about having fun and doing new things you wouldn't do outside of camp. I love that part about it, where you can just remove yourself from reality for a while. The focus on being happy and having fun, no matter what goes on for you outside of camp, is my favourite part. 
If I could change anything about camp I'd make it a bit longer so we could fit in as many activities as possible! It was great watching the campers do the physical activities like climbing, so any activity that pushes them into their stretch zone would be welcome. I really enjoyed the ones where we all worked together as a team the most. It took me back to my time at guides, sat around the campfire chatting and singing. Anyone that did guides or scouts growing up would enjoy camp for the same reasons! 
When I was initially deciding whether to do it or not, I was thinking a week is a long commitment and worried how things would work for my family me not being there. I had to do lots of handovers and make sure everything was in place, so the lead up to camp was very busy. I would do all that again to go to camp because it was so worth it for me. Camp will have a lasting impact on me, the songs are ingrained in my head! I won't forget the dances, and almost started dancing when I heard one of the camp songs in the supermarket the other day.  
If you think about it, there's 52 weeks in a year and there's just one week that you'd be committing to. The caregivers at home for the campers have responsibility for all of the year, so one week is a small proportion in comparison. When I opened my warm fuzzies from the other volunteers, it brought everything back for me. Especially if you've been given the opportunity to volunteer through work like I have, you shouldn't waste it. If people don't use it they'll take it away which would be such a shame!  
A lot of the campers said I had 'good mum' vibes. I'm not a mum, but I think that meant they trusted me and looked to me for support which was nice to hear! At the end of camp when we did an activity writing nice things about each other, they described me as supportive, caring and observant. Even when it's just one word, it was really nice to receive. It shows that we've made an impact on them as well.  
My day job is very different to camp. I do commercial management which is mostly behind a screen crunching numbers on a spreadsheet. I did pick up transferable soft skills from camp, and things like the inclusivity training were really useful to me. I work in a big company where I meet different people from different backgrounds all the time. What I'll take from camp is try and incorporate more fun into the every day which is something my colleagues would enjoy too!
There were a few returning volunteers and the team leaders were very experienced which I was thankful for. They would always check in with the new volunteers to see if we were okay so it was a very supportive. We were all different ages and from different backgrounds but that didn't stop us from getting on really well together. Some were volunteering for their DofE award, some were volunteering because they used to be campers, others were volunteering to try something new like me. It's a great thing for students or anyone in between work to get involved in.
Some of the volunteers were more reserved, but that suited some of the campers who were quieter and didn't always want to be centre of attention. Then there were the loudest campers, who needed loud volunteers to match! A variety of volunteers makes for a good team, you can't be all the same person. 
During archery, one of the instructors asked me to write everyone's name on the board and tally the scores as they came in. I'm dyslexic, so I had to keep checking everyone's lanyard to make sure they were spelled correctly. I was definitely in my stretch zone adding up the scores – normally I have a calculator and spreadsheet to help with that! There was lots of mental maths involved and because the campers were excited to know their scores, I had to be quick to keep up. I had fun doing it but it was definitely a challenge. It just shows your stretch zone doesn't have to involve a physical activity or conquering a big fear, it can be anything!  
Camp made me appreciate the smaller things in life. It was the little things at camp that had a big impact on me. During downtime when we were playing games or chatting on the sidelines, encouraging campers to try an activity – that's when I realised life can get complicated as an adult. Camp made everything simpler.
There was one camper who was the embodiment of joy. She was really happy and always saw the positive side of things. She was great at encouraging other campers when they were scared or unsure. It wasn't like she'd been on a training course and learned how to be positive that way, like many adults do, that was just the way it was. It was very humbling to see and encouraged me to be more like her, to look for the positives rather than the negatives.  
Everything you need for camp is provided but if you have any decorations related to the team's theme (eg. tropical, outer space etc) to help decorate the common room and the corridor to bring it to life, bring them along. Likewise, if you have fancy dress or hats at home, they help to bring that extra bit of fun to camp!

I'd also bring more clothes to match my colour team. Lots of volunteers had green hoodies and leggings to go with the camp t-shirts that are provided, so when you're packing for camp I'd recommend bringing as much colour as possible!

 

 

Bring a notebook! It's great to jot something down quickly, like a comment you want to include in your warm fuzzies or a reminder of something special a camper did that day. I didn't have a notebook this time so I kept finding scraps of paper to write on. Either way, so much happens in the five days it's great to document it in some way.

 

 
There's a lot of training before the campers arrive which helps prep you for camp. If you've worked with children before, then you might be familiar with letting them lead in activities and conversation. If you've not worked with children before, just try and soak up their energy because you get a much better response out of them by matching their excitement about what they're interested in. Otherwise, don't be afraid to learn as you go! Go with an open mind and vibe off the campers. If they're a really silly bunch, sing loads of songs. If they love playing games then play loads of games. Every child and young person is different, which is what makes camp so special! 
Volunteer applications for camp season 2024 open very soon, sign up to register your interest!