Stourbridge sisters raise awareness of Over The Wall, thanks to Newman's Own limited-edition label design competition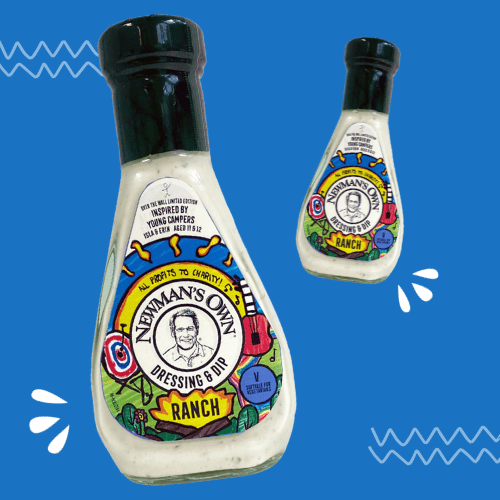 Two young sisters from Stourbridge are helping shine the spotlight on UK-based charity, Over The Wall, having won a competition that will see a label inspired by their winning design appear on tens of thousands of limited-edition Newman's Own Ranch Dressing bottles. The creative and colourful label, inspired by Erin and Isla Smith's eye-catching design, will feature on 30,000 special-edition bottles, and is set to hit supermarket shelves this week for three weeks.
Sisters Erin (14) and Isla (12) entered the competition last year while attending an Over The Wall camp in Staffordshire, which provides residential stays for children with health challenges and disabilities, and their families. The sisters' younger brother Kier has Ohtahara Syndrome, a rare type of epilepsy. The charity provides therapeutic camp-based activities for children aged 8-17, creating an environment of fun, adventure and creativity, and has provided the sisters with some well-deserved respite following a turbulent few years.
Newman's Own donate 100% of its profits to charities, including Over The Wall in the UK, and the competition to design a label for its limited-edition Ranch Dressing was launched to engage children attending the Over The Wall camps so that they could have fun helping raise awareness of the charity in a public space. As a result, the charity can continue to provide much-needed escapes and respite for families such as the Smith's. 
Erin and Isla were attending the camp for the first time when they entered the competition and took inspiration from their stay before putting pencil to paper. The winning design features a range of experiences that children can enjoy at the camps, such as music, campfires, archery and making memories in the outdoors.   
In addition to seeing their design on the limited-edition bottles, the girls were presented with a large framed poster of the winning image, along with £50 worth of Amazon vouchers each. 
Avid horse rider and violinist, Erin, said: "Over The Wall has been a great experience. I've made friends with children who are in similar situations, which has definitely helped me. It's a very important charity as it helps take off the pressure for families who might need a rest."  
Isla, who loves singing and acting, added: "I feel very proud because it's something me and my sister have made together. I'm excited that people will be able to buy a product that we've designed the label for which will help other kids in situations like ours." 
The girls' mother, Becci also added: "I'm so impressed because I knew there were camps for children with disabilities, but Kier is too unwell to do anything like that, so when I found out there was a sibling camp for the girls it was great news. It's hard being the sibling of a disabled child. The girls' lives changed so quickly; they've had a tough time and needed support with their mental health. The fact that this charity means they can get away from Mum, Dad and the seizures for four days and just have fun is brilliant. It really is a fantastic charity and it's given me and my husband peace of mind. I hope that Erin and Isla's label design really helps raise awareness of Over The Wall so that other families can benefit from the camps too." 
The limited-edition Newman's Own Ranch dressing bottles are available for the next three weeks across the UK, exclusively at Sainsbury's supermarkets, including in Sainsbury's Brierley Hill and Amblecote store.